A pretty mother of pearl pendant from my loving Hubby.
It was an anniversary gift a few years ago and I've never worn it because I kept waiting to find the right gold chain for it.
The problem is, I'm a silver girl and have to be in the mood for gold and every time I went shopping at the jewelry clearance sales for that perfect chain, I wasn't in the golden mood.
I found my pendant again the other day and thought, this poor thing is going to be sitting in my jewelry box forever! I wished I could wear it.
So after rummaging through my island jewelry, I found something else I love but never wear.
A simple long shell lei that never quite looked right on it's own.
So I put the two together.
Voila! I had to wear it right away :)
And I've gotta say, I LOVE it! Simple, gorgeous island jewelry that I had in my jewelry box all along.
I'm glad I finally figured out they belonged together.
Have you recently rediscovered something that you love?
I'm linking to: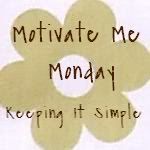 Can I just say I adore that Jen at Craftomaniac lets us link up TWO projects for her Monday parties? For a chronic crafting mini project doer like myself, it's heaven! Not to mention great motivation!